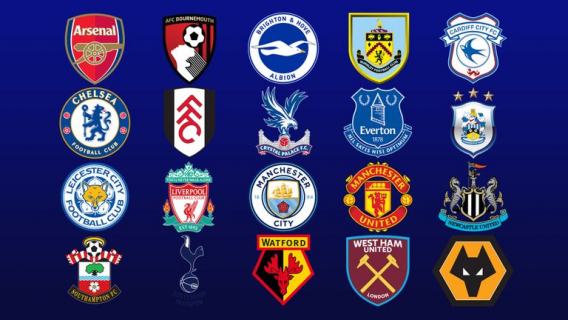 Premier League Official
Terminarz Premier League już dostępny! W pierwszej kolejce prawdziwy hit
Premier League ogłosiła terminarz na sezon 2019/20. Pierwszy mecz "angielskiej ekstraklasy" zostanie rozegrany już 9 sierpnia. To jednak przedsmak emocji, które nas czekają, bo już w pierwszej kolejce będzie miał miejsce prawdziwy hit.
Nowy sezon jednej z najbardziej popularnych lig na świecie rozpocznie się już niebawem, bo 9 sierpnia w Liverpoolu zwycięzcy Champions League staną naprzeciw zawodników z Norwich. "Kanarki" wracają do gry po blisko trzech latach i z biegu czeka ich niemałe wyzwanie.

Premier League - hity sezonu

Już w pierwszej kolejce sezonu kibice mogą liczyć na nie lada emocje. Jedenastego sierpnia Manchester United dokładnie o 17.30 zmierzy się z Chelsea Londyn. Mało tego, na następny hit ligi kibice będą musieli czekać zaledwie tydzień - wtedy zmierzy się Man City z Tottenhamen Londyn. Gdyby tego było za mało, to w kolejnej serii Arsenal Londyn podejmie wyzwanie z Liverpoolem. Koniec sierpnia z kolei zakończy pojedynek Arsenalu z Tottenhamem.Pierwsza kolejka Premier League rozpisana jest już z dokładnymi datami starć, natomiast reszta stanowi ramowy terminarz.
Wart uwagi jest fakt, że piłkarze Premier League po raz pierwszy będą mieli zimową przerwę. Kolejki meczów przypisane do 8 i 15 lutego będą podzielone na pół. Dokładnie pięć meczów zostanie rozegranych w pierwszym terminie, a część w drugim. Dzięki temu, wszyscy zawodnicy, mimo dwóch tur, będą mieli krótką przerwę zimową.

Pełny terminarz Premier League:
9. sierpnia
Liverpool vs Norwich City - 20:00
10. sierpnia:
West Ham vs Man City - 12.30
AFC Bournemouth vs Sheffield United
Burnley vs Southampton
Crystal Palace vs Everton
Leicester City vs Wolves
Watford vs Brighton
Spurs vs Aston Villa - 17.30

11. sierpnia:
Arsenal vs Burnley
Aston Villa vs AFC Bournemouth
Brighton vs West Ham
Chelsea vs Leicester City
Everton vs Watford
Man City vs Spurs
Norwich City vs Newcastle United
Sheffield United vs Crystal Palace
Southampton vs Liverpool
Wolves vs Man Utd

17, sierpnia:
Arsenal vs Burnley
Aston Villa vs AFC Bournemouth
Brighton vs West Ham
Chelsea vs Leicester City
Everton v sWatford
Man City vs Spurs
Norwich City vs Newcastle United
Sheffield United vs Crystal Palace
Southampton sv Liverpool
Wolves vs Man Utd

24. sierpnia
AFC Bournemouth v Man City
Aston Villa v Everton
Brighton v Southampton
Liverpool v Arsenal
Man Utd v Crystal Palace
Norwich City v Chelsea
Sheffield United v Leicester City
Spurs v Newcastle United
Watford v West Ham
Wolves v Burnley

31. sierpnia:
Arsenal v Spurs
Burnley v Liverpool
Chelsea v Sheffield United
Crystal Palace v Aston Villa
Everton v Wolves
Leicester City v AFC Bournemouth
Man City v Brighton
Newcastle United v Watford
Southampton v Man Utd
West Ham v Norwich City

14. września:
AFC Bournemouth v Everton
Aston Villa v West Ham
Brighton v Burnley
Liverpool v Newcastle United
Man Utd v Leicester City
Norwich City v Man City
Sheffield United v Southampton
Spurs v Crystal Palace
Watford v Arsenal
Wolves v Chelsea

21. września:
Arsenal v Aston Villa
Burnley v Norwich City
Chelsea v Liverpool
Crystal Palace v Wolves
Everton v Sheffield United
Leicester City v Spurs
Man City v Watford
Newcastle United v Brighton
Southampton v AFC Bournemouth
West Ham v Man Utd

28. września:
AFC Bournemouth v West Ham
Aston Villa v Burnley
Chelsea v Brighton
Crystal Palace v Norwich City
Everton v Man City
Leicester City v Newcastle United
Man Utd v Arsenal
Sheffield United v Liverpool
Spurs v Southampton
Wolves v Watford

5. październik:
Arsenal v AFC Bournemouth
Brighton v Spurs
Burnley v Everton
Liverpool v Leicester City
Man City v Wolves
Newcastle United v Man Utd
Norwich City v Aston Villa
Southampton v Chelsea
Watford v Sheffield United
West Ham v Crystal Palace

19. październik:
AFC Bournemouth v Norwich City
Aston Villa v Brighton
Chelsea v Newcastle United
Crystal Palace v Man City
Everton v West Ham
Leicester City v Burnley
Man Utd v Liverpool
Sheffield United v Arsenal
Spurs v Watford
Wolves v Southampton

26. październik:
Arsenal v Crystal Palace
Brighton v Everton
Burnley v Chelsea
Liverpool v Spurs
Man City v Aston Villa
Newcastle United v Wolves
Norwich City v Man Utd
Southampton v Leicester City
Watford v AFC Bournemouth
West Ham v Sheffield United

2. listopad:

AFC Bournemouth v Man Utd
Arsenal v Wolves
Aston Villa v Liverpool
Brighton v Norwich City
Crystal Palace v Leicester City
Everton v Spurs
Man City v Southampton
Sheffield United v Burnley
Watford v Chelsea
West Ham v Newcastle United

9. lisopad:
Burnley v West Ham
Chelsea v Crystal Palace
Leicester City v Arsenal
Liverpool v Man City
Man Utd v Brighton
Newcastle United v AFC Bournemouth
Norwich City v Watford
Southampton v Everton
Spurs v Sheffield United
Wolves v Aston Villa

23. listopad:
AFC Bournemouth v Wolves
Arsenal v Southampton
Aston Villa v Newcastle United
Brighton v Leicester City
Crystal Palace v Liverpool
Everton v Norwich City
Man City v Chelsea
Sheffield United v Man Utd
Watford v Burnley
West Ham v Spurs

30. listopad
Burnley v Crystal Palace
Chelsea v West Ham
Leicester City v Everton
Liverpool v Brighton
Man Utd v Aston Villa
Newcastle United v Man City
Norwich City v Arsenal
Southampton v Watford
Spurs v AFC Bournemouth
Wolves v Sheffield United

3, grudnia:
19:45 Arsenal v Brighton
19:45 Burnley v Man City
19:45 Leicester City v Watford
19:45 Sheffield United v Newcastle United
19:45 Wolves v West Ham
20:00 Man Utd v Spurs

4. grudnia:
19:45 Chelsea v Aston Villa
19:45 Southampton v Norwich City
20:00 Crystal Palace v AFC Bournemouth
20:00 Liverpool v Everton

7. grudnia:
AFC Bournemouth v Liverpool
Aston Villa v Leicester City
Brighton v Wolves
Everton v Chelsea
Man City v Man Utd
Newcastle United v Southampton
Norwich City v Sheffield United
Spurs v Burnley
Watford v Crystal Palace
West Ham v Arsenal

14. grudnia:
Arsenal v Man City
Burnley v Newcastle United
Chelsea v AFC Bournemouth
Crystal Palace v Brighton
Leicester City v Norwich City
Liverpool v Watford
Man Utd v Everton
Sheffield United v Aston Villa
Southampton v West Ham
Wolves v Spurs

21. grudnia:
AFC Bournemouth v Burnley
Aston Villa v Southampton
Brighton v Sheffield United
Everton v Arsenal
Man City v Leicester City
Newcastle United v Crystal Palace
Norwich City v Wolves
Spurs v Chelsea
Watford v Man Utd
West Ham v Liverpool

26. grudnia
AFC Bournemouth v Burnley
Aston Villa v Southampton
Brighton v Sheffield United
Everton v Arsenal
Man City v Leicester City
Newcastle United v Crystal Palace
Norwich City v Wolves
Spurs v Chelsea
Watford v Man Utd
West Ham v Liverpool
28. grudnia
Arsenal v Chelsea
Brighton v AFC Bournemouth
Burnley v Man Utd
Liverpool v Wolves
Man City v Sheffield United
Newcastle United v Everton
Norwich City v Spurs
Southampton v Crystal Palace
Watford v Aston Villa
West Ham v Leicester City

1 stycznia. 2020
Arsenal v Man Utd
Brighton v Chelsea
Burnley v Aston Villa
Liverpool v Sheffield United
Man City v Everton
Newcastle United v Leicester City
Norwich City v Crystal Palace
Southampton v Spurs
Watford v Wolves
West Ham v AFC Bournemouth

11. stycznia 2020
AFC Bournemouth v Watford
Aston Villa v Man City
Chelsea v Burnley
Crystal Palace v Arsenal
Everton v Brighton
Leicester City v Southampton
Man Utd v Norwich City
Sheffield United v West Ham
Spurs v Liverpool
Wolves v Newcastle United

18. stycznia
Arsenal v Sheffield United
Brighton v Aston Villa
Burnley v Leicester City
Liverpool v Man Utd
Man City v Crystal Palace
Newcastle United v Chelsea
Norwich City v AFC Bournemouth
Southampton v Wolves
Watford v Spurs
West Ham v Everton

21. stycznia
19:45 AFC Bournemouth v Brighton
19:45 Aston Villa v Watford
19:45 Everton v Newcastle United
19:45 Leicester City v West Ham
19:45 Sheffield United v Man City
19:45 Wolves v Liverpool
20:00 Man Utd v Burnley

22. stycznia
19:45 Chelsea v Arsenal
19:45 Spurs v Norwich City
20:00 Crystal Palace v Southampton

1 luty
AFC Bournemouth v Aston Villa
Burnley v Arsenal
Crystal Palace v Sheffield United
Leicester City v Chelsea
Liverpool v Southampton
Man Utd v Wolves
Newcastle United v Norwich City
Spurs v Man City
Watford v Everton
West Ham v Brighton

8/17 luty
Arsenal v Newcastle United
Aston Villa v Spurs
Brighton v Watford
Chelsea v Man Utd
Everton v Crystal Palace
Man City v West Ham
Norwich City v Liverpool
Sheffield United v AFC Bournemouth
Southampton v Burnley
Wolves v Leicester City
Następny artykuł
Nie przegap żadnych najciekawszych artykułów! Kliknij obserwuj zestadionu.pl na:
Google News
Powiązane artykuły